This page lists tips for beginners of the game
Beginners ships
Cruiser
About
An agile, rapid firing ship that can easily dodge enemy's bullet but also very dangerous when
hard-turning suddenly (it could sink!)
How to build
Note:
White : hull
Green : propeller
Green : rudder
Red : Shikishima class boilers
Blue : mast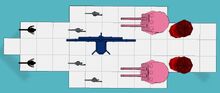 Step 2 : place the second layer, mast, boilers, cannons . and guns
And you're done! And remember, don't hard-turn suddenly at over 100 knots!
Community content is available under
CC-BY-SA
unless otherwise noted.